What began as a job shop machine shop has extended its services also to include metal fabrication, welding, a retailer of industrial supplies and stainless, aluminum and carbon steel, with laser and plasma cutting.
Unlike many other machine shops in South Carolina, we have experience working in an extensive range of metals, including Titanium, Nickel, AR400, and AR500. When you are looking for specialist welding services, we are also happy to help. But, it does not stop there. The next time you are looking for a plasma cutting service in South Carolina, you should not hesitate to get in touch. Plasma cutting along with laser cutting, burning, and etching are some of our top services. All of our services can be tailored to fit in with the needs of your specific project. When it comes to cost, we are proud to say that we have many returning customers that return to us time and time again. Reach out today to find out how we can help you!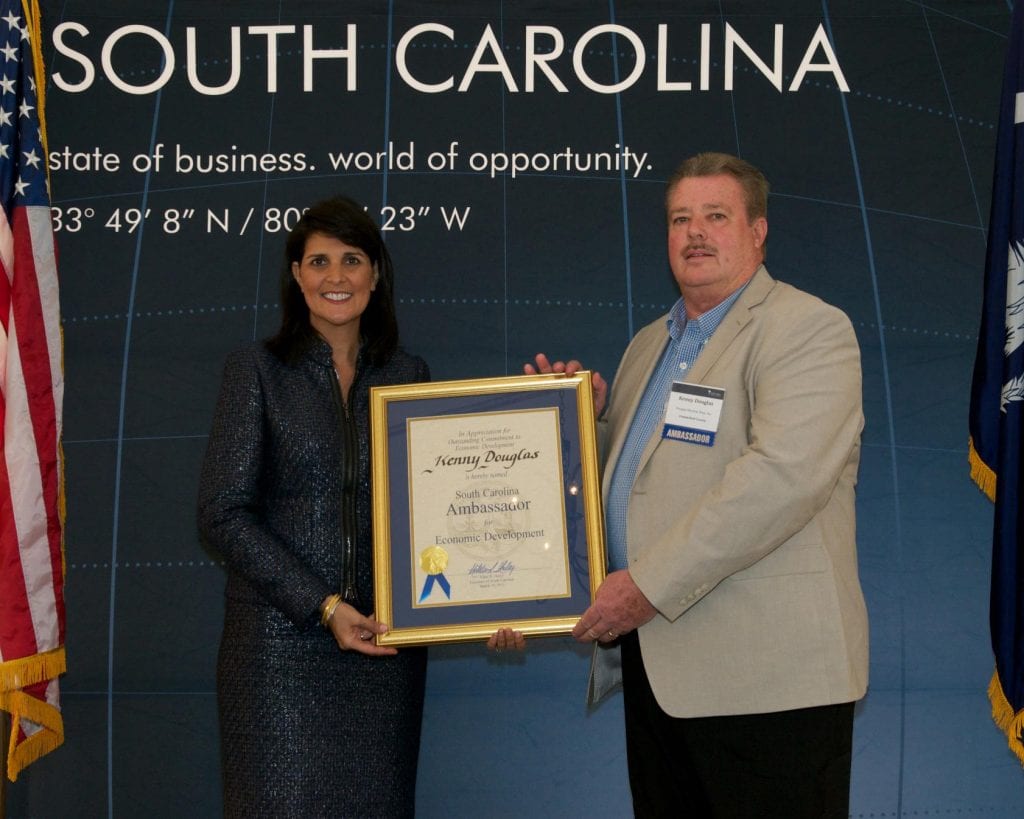 Thanks to our years of experience, we know that our team can help you with your machine shop requirements.
Alger (Kenny) Douglas, Owner & President
Wanda Douglas,
Owner & Vice-President
Paula Crytser,
Office Administrator
Kevin Douglas,
Engineer & Chief Shop Foreman
Chris Taylor,
Machinist & Supervisor
Tammy Smith,
Purchasing & Sales Manager
DMS, Inc. started as a 1,200 square foot building, and Kenny was the only employee until 1979. He then gradually began adding employees as the business grew. In 1984, it was necessary to add 1,400 square feet. In 1988, he purchased land beside the current company and built another building, 7,500 square feet, with a small retail division. Since then, DMS, Inc. has increased six more times, totaling 34,000 square feet and currently another 10,000 square feet.
Douglas Machine Shop, Inc. (DMS, Inc.) in rural, Mount Croghan, SC, was established in 1978 and continues to flourish. What began as a job shop machine shop has extended its services also to include metal fabrication, welding, a retailer of industrial supplies and stainless, aluminum and carbon steel, with laser and plasma cutting. DMS, Inc. is responsible for three patents, and the design and manufacturing of wood shaving machines. Eventually, the shaving machine part of the business separated into its own company, Douglas Shaving Mill LLC. DMS, Inc. has manufactured several different types of machinery for other companies, large and small. DMS, Inc. has sent their work all over the US, Chili, Australia, and Canada. A few types of clients, in which DMS, Inc. works with are rock quarries, sand companies, aircraft, transformers, valves, lumber companies, distribution centers, agricultural, concrete, contractors, electric power plants, water companies, manufacturers, as well as individuals. DMS, Inc. has received 2 Certificates of Excellence Awards, with a Fortune 500 company.

The entrepreneur behind it all is Alger K. Douglas, known as Kenny Douglas. Born in 1949 and lived at the Blakeney Motel, in Pageland, SC, for his first two years of life, later moving to a home, a few blocks down, until the age of 18 years. He jokes, "It's been downhill ever since."
In 1967, Kenny began Florence-Darlington Technical College and graduated with a bachelor's degree in Machine Shop Technology and Tool & Die Technology, in 1969. Starting his journey in 1970, he began working at Tool Service Engineering as a Toolmaker, for six months. When presented with an opportunity to work at AVM (Automatic Voting Machines), he couldn't turn it down. AVM worked with large scale businesses like Chrysler, Ford, Homelite, Stanley Tools, and many more. There, Kenny received a Journeyman Toolmaker of NC certificate. In 1973, he began working at Challenger, as a Die and Mold Maker. Quickly moving up the ladder, in 1976, Kenny moved to Engineering, as the first and only one in the company. A few months later, he became a supervisor over the porcelain side of the plant, with 120 women and 45 men. While continuing to work at Challenger in 1976, Kenny and a friend started their machining & welding, part-time business, in Pageland, SC.

Making his fourth life-changing decision, in 1978, he left Challenger, ended his part-time partnership, and Douglas Machine Shop was born. Now, as for his first, second, and third life-changers. In 1971, Kenny married his wife, Wanda. In 1972, their first child was born, a daughter, Paula. In 1975, they had a son, Kevin. Just like a business, marriage and a family takes commitment to be successful. As well as understanding the importance of change, creativity, knowing how to handle problems, make decisions, all while keeping the passion, the fire that moves us to action, to be successful. That's what Kenny has done, through business and his family.